And there was delivered unto him the book of the prophet Isaiah.  And he opened the book, and found the place where it was written, The Spirit of the Lord is upon me, because He anointed me to preach good tidings to the poor: He hath sent me to proclaim release to the captives, and recovering of sight to the blind, to set at liberty them that are bruised, to proclaim the acceptable year of the Lord.  -Luke 4:16-19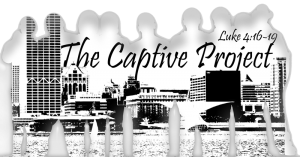 VISION:
To see Christians united to transform lives and cities for the Glory of God, for the "soul" purpose of making disciples for Christ through preaching the Gospel.
MISSION:
To innovatively go into urban areas with the Gospel of Jesus Christ, to facilitate unity with cooperating churches, creating bridges that link Suburban and Urban churches/ministries for the Glory of Christ.
GOALS:
1. Establish The Captive Project brand as a trusted instrument of ministry for Christ.
2. Facilitate a visual unifying atmosphere for the Body of Christ in the city of Milwaukee, for the purpose of fulfilling the mission of Christ.
3. Search out like-minded Believers who resonate with our mission and will assist in the development of a self-sustaining mechanism of support for The Captive Project.
Ministries:
1. Evangelism – to plant seeds of the Gospel
2. Discipleship – to facilitate transformation in the life of Disciples of Christ
3. Cultural Reconciliation – unification of the Body of Christ for the purpose of fulfilling the mission of Christ